Refrigerant gas
A product line-up considering global environmental effects and safety and meeting market needs.
Freon gas
---
We handle almost all chlorofluorocarbons which are distributed in Japan.

Normal containers (rotating containers) are available in various sizes.
NRC containers (refill-prohibited containers), lightweight and compact, are also available.
---
---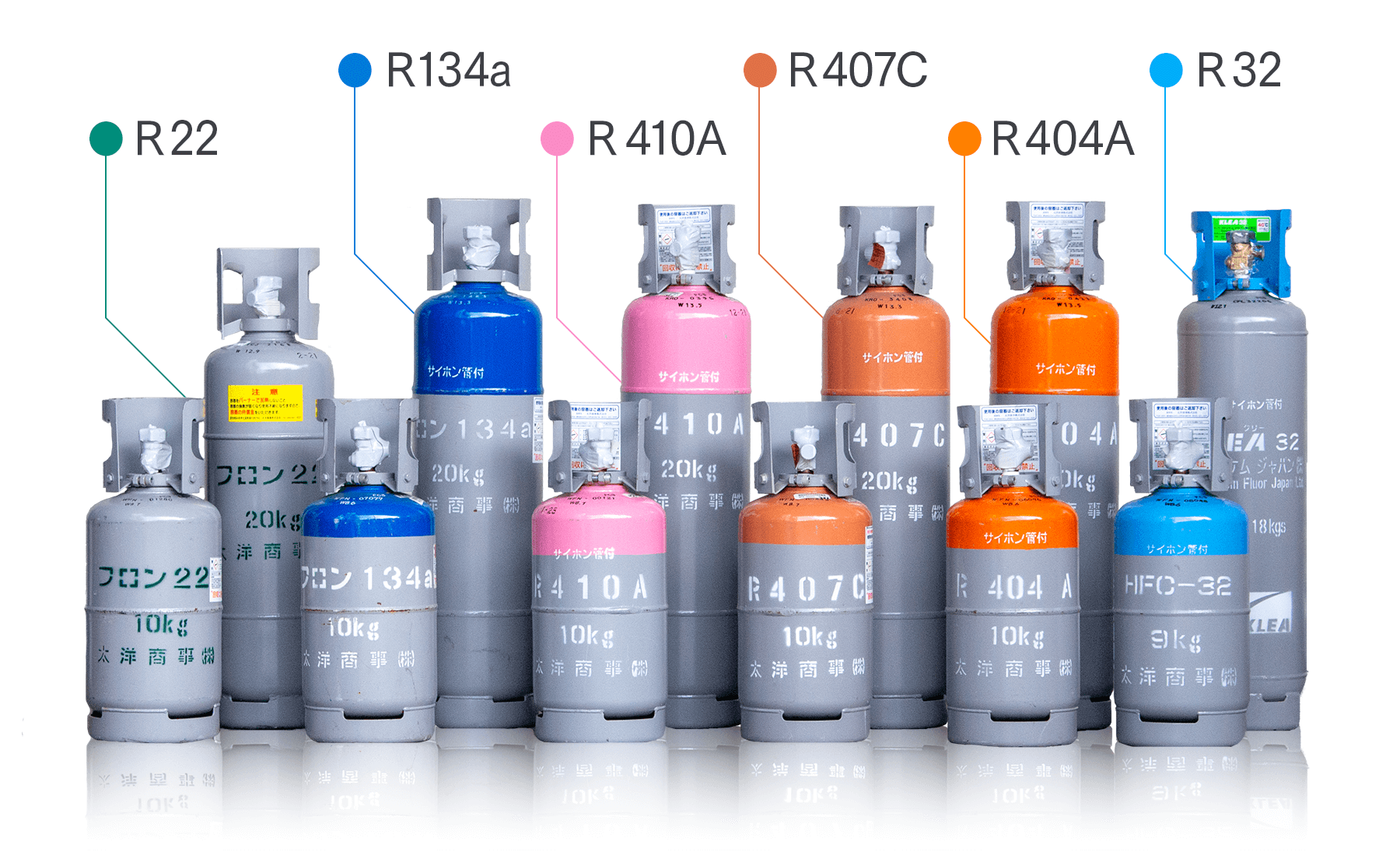 ---
R410A
Package: 5㎏、10㎏、20㎏、100㎏
Mainly used for home room air conditioners and packaged air conditioners. The room air conditioner is now switching to R32.
R32
The global warming potential is lower than new refrigerants, Today, it is the mainstream of room air conditioners.
R404A
Package: 5㎏、10㎏、20㎏、100㎏
Mainly used in refrigeration equipment and showrooms.
R407C
Package: 10㎏、20㎏、100㎏
Mainly used as a refrigerant for room air conditioners and packaged air conditioners.
It has similar features,such as pressure, capacity and efficiency, to R-22
R134a
Package: 5㎏、10㎏、20㎏、100㎏
Main applications are refrigerants for car air conditioners and refrigeration equipment. Used as an alternative to R12 in the medium temperature range.
This refrigerant cannot be used as it is in the existing system, but when used in a new system, the same performance as R12 can be obtained.
It can also be used as a refrigerant for turbo chillers.
R22
Package: 5㎏、10㎏、20㎏、100㎏
Although the gas will be completely abolished in 2020 according to the Montreal Protocol,
it is still handled in response to demand for after-sales maintenance of air conditioners and refrigerators.
---
NRC series
---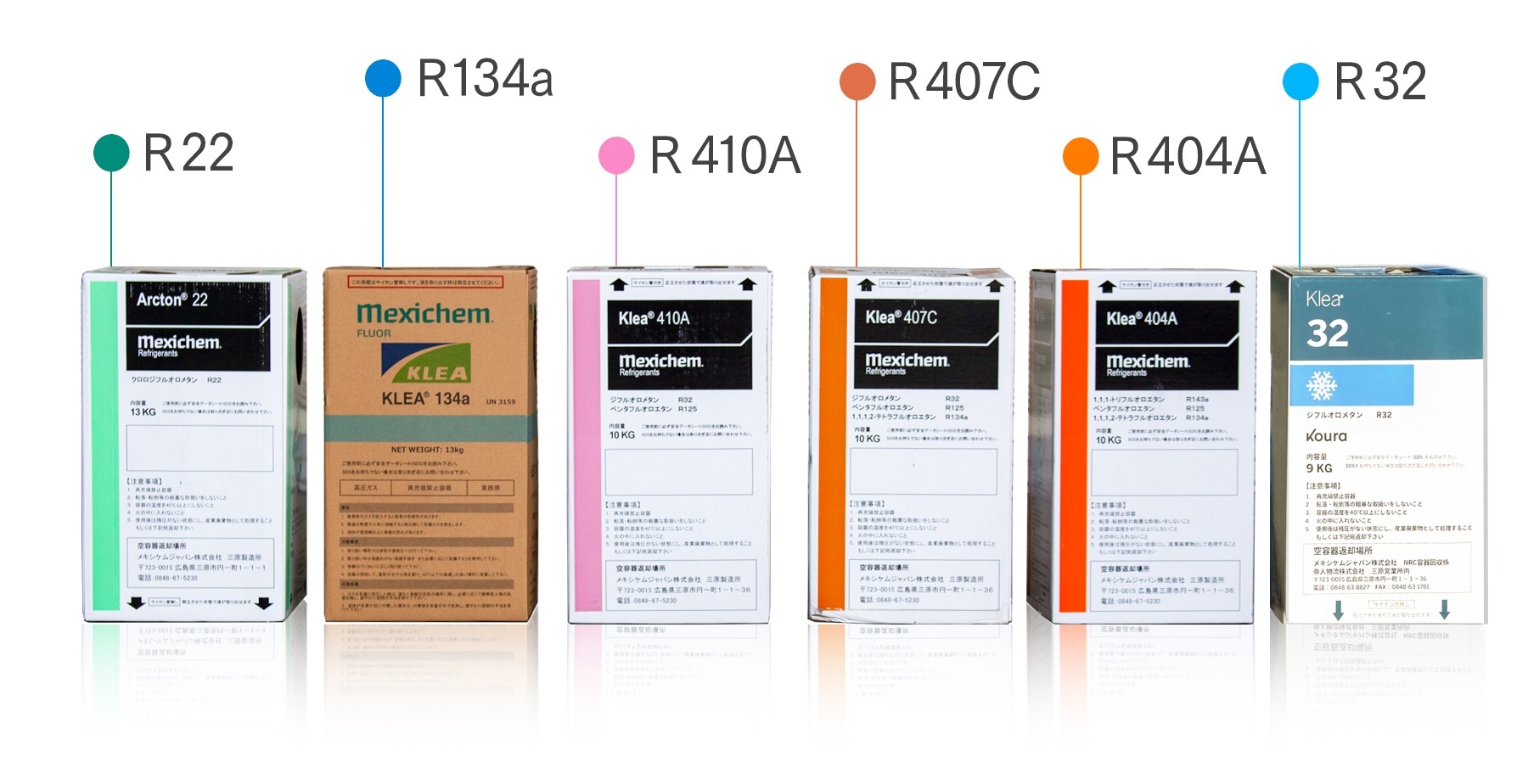 Because it is a single-use cylinder that cannot be refilled,
it is a product that is very easy to handle, with the container weight approximately 1/3 that of a normal cylinder.

Also, returning a cylinder is as simple as faxing a special form.
Our company began shipping nationwide in 2000 and has been very well received by customers.

Please feel free to contact us.
---
Special refrigerant gas
---
Carbonate for refrigerant
Isobutane for refrigerant
Cryogenic refrigerant
We also handle R23 and R508A
---
Other service
We support your business in abundant experience and technique
---
Fluoro gas sales ledger creation support
---
With the "Freon Emission Control Law" that came into effect on April 1, 2015, the gas sales management under the High-Pressure Gas Safety Law will become stricter.
If you purchase chlorofluorocarbon from our company, we will support the creation of forms such as sales ledgers that also comply with the new law.
---
In-house developed product
---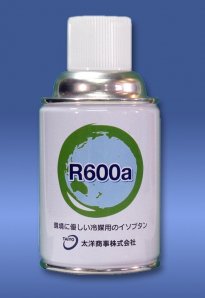 Taking advantage of our technological capabilities, we are also working on the development of our own products.
Isobutane service can (100g)
Normal pentane service can (200g)
---